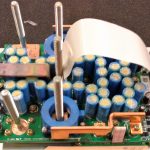 In our experience, Mitsubishi industrial electronic products are pretty great products. Even older, legacy Mitsubishi products are usually WELL worth getting Mitsubishi repairs.
Many of our ACS customers have legacy Mitsubishi products in their plants and shops. Lately, we've had lots of damaged or malfunctioning Mitsubishi industrial electronics in our shop for repairs– servo amps, inverters, operator panels, circuit board assemblies, servo drives, PLCs, controllers, and power supplies – just to name a few!
Why so many? No, not because they are all failing at once! More likely just because there are SO many good industrial electronic Mitsubishi products out there in use. And our customers know the value of maintaining their equipment. These units may no longer be under the OEM warranty, but they are also nowhere near needing to be replaced. They are still perfectly good!
Electronic repairs and refurbishing are a great way to keep good, strong Mitsubishi and other equipment in place. This can potentially save you a ton of money over buying NEW equipment that could be better spent elsewhere in your plant!
So what have we done lately?
Here's a few examples of successful electronic Mitsubishi repairs that have arrived on our docks for lately!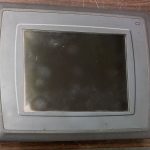 Mitsubishi Operator Control Panel E-1061 – arrived with a broken screen, bad battery, bad IC and a lot of dirt/wear and tear all of which was replaceable/repairable!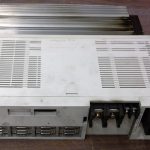 Mitsubishi Servo Drive MDS-B-V2-4520 – arrived making noise in the z axis which kept getting worse and alarming out with an overcurrent Z alarm. This very dirty unit was full of weak and bad components including all of the capacitors, IGBT, and heat sinks – all replaced.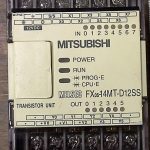 Mitsubishi PLC FX0S-14MT-D12SS – this damaged PLC required new capacitors, driver ic, resistors, and a dc to dc converter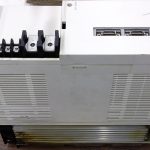 Mitsubishi Power Supply MDS-B-CV-185 – damaged power supply arrived with a voltage problem, 41 alarm, and flashing LEDs; intermittent current – altogether this successfully repaired power supply needed replaced resistors in internal contactor circuit, replaced capacitors on the control board plus replacement of 7 other capacitors and replacement of broken leads that were not making contact.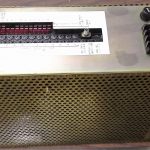 Mitsubishi Controller F9421500 – this sturdy but damaged controller arrived covered inside and out with grease and dirt with power problems and the ready light not flashing. Repairs needed included replacements for all of the capacitors, diodes, repair of cracked solder joints, plus a thorough cleaning/degreasing – which every unit gets!
Knowledge is Power
At ACS we believe knowledge is power. If you are searching for a repair center for your damaged industrial electronics check first to see if your equipment is still under warranty. If it is still under warranty contact the OEM about repairs. If it is out of warranty, contact an independent industrial electronic repair center to find out if they are a good fit for your company and your particular repair needs. They should offer free evaluations for your damaged equipment and, if needed, a free quote for repairs (no bench fees!). They should also provide repair reports if requested and a good warranty of at least one year (more would be better!) that covers both parts AND labor.
About the Author: ACS Industrial Services is an independent industrial electronic repair center providing repairs for all types of industrial electronic equipment and most all manufacturers including operator control repairs, circuit board repairs, touch screen repairs, power supplies, VFD AC & DC drive repairs, servo motors, CNC equipment, encoders, monitors, test equipment, and much more. RUSH SERVICE is available and a comprehensive 2-Year Warranty covers most repairs. The super-helpful customer service team is available to answer your questions and help solve your toughest industrial electronic repair problems. You can reach them by calling 800-605-6419. Or check out ACS's incredible new easy-to-search Repair Catalog!