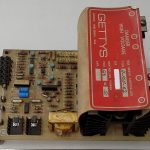 "I need this machine in the worst way! We have been told there is power coming in but none going out. We need this repaired and returned ASAP!"
That was the desperate call from our sheet metal fabricator customer. The machine in question had a damaged Gettys servo controller 11-1011-02 – the result of a jarring cross-country move.
Anyone who has ever moved their entire plant, or even a single piece of delicate equipment, knows it's very difficult to avoid damaging vibrations during the move. Professional industrial movers can save you a lot of headaches and money! But what if your equipment DOES get damaged while moving, like this customer? Assuming your equipment didn't literally fall out of the back of a moving truck, it can usually be repaired!
In this case, the move-damaged Gettys controller was entirely repairable. This was true, even though it was not only damaged but also obsolete. Damaged and aging components were desoldered, removed and tested. After locating the needed obsolete parts (yes, sometimes Ebay comes in handy!), we replaced a reed relay, op-amp ICs and two regulator IC as well as reflowing damaged traces. After a thorough repair and cleaning, the unit tested successfully!
The Outcome
Good news! The results were a fully functional controller shipped out and the desperately needed equipment is now back up and running! And we have a happy customer: "Happy to report the drive is working correctly. I cannot thank you enough. God Bless!" – J.A.
Knowledge is Power
We believe knowledge is power. If you are searching for a repair center for your damaged industrial electronics check first to see if your equipment is still under warranty. If it is still under warranty contact the OEM about repairs. If it is out of warranty, contact an independent industrial electronic repair center to find out if they are a good fit for your company and your particular repair needs. They should offer free evaluations for your damaged equipment and, if needed, a free quote for repairs (no bench fees!). They should also provide repair reports if requested and a good warranty of at least one year (more would be better!) that covers both parts AND labor.
About the Author: ACS Industrial Services is an independent industrial electronic repair center providing repairs for all types of industrial electronic equipment and most all manufacturers including repairs for touchscreens, and controls, circuit board repairs, power supplies, VFD AC & DC drive repairs, servo motors, CNC equipment, encoders, monitors, test equipment, and much more. RUSH SERVICE is available and a comprehensive 2-Year Warranty covers most repairs. The super-helpful customer service team is available to answer your questions and help solve your toughest industrial electronic repair problems. You can reach them by calling 800-605-6419. Or check out ACS's incredible new easy-to-search Repair Catalog!