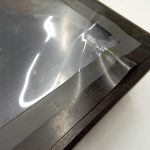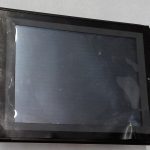 TRUE or FALSE?  H20 + ELECTRONICS = Nightmare.  Are water-damaged industrial electronics repairable or always "toast"? The truth is, this is very often a true equation. Water is definitely one third of the Evil Triad (water, heat, dirt) that can spell disaster for electronic equipment like this Omron NS8—TV00B-V2 HMI.
But in this case, the equation of doom turned out to be FALSE! This Omron HMI got water behind the touch screen causing the screen to flicker into different pages and would not allow the machine to run. Bad news for our Midwest U.S. meat processing plant customer!
After opening the unit, we discovered that there was minimal water damage inside, all of which could be repaired or replaced. We also replaced the damaged bezel, touchscreen and LCD. The unit was dried, cleaned and tested and has been returned to the mid-west U.S. processing plant in solid working order! This repair saved our customer approximately 50% of the cost of buying a new replacement unit! Now that's GOOD news after fearing the worst!
Harsh manufacturing environments can often expose sensitive electronics to excess moisture, dirt, heat, and even vibrations all of which are tough on even the best equipment. We see the results of this every single day! Water damaged electronics are not always a lost cause. If you have a hard-to-replace and/or expensive unit with water damage it may well be worth the effort of having it inspected to see if it can be saved.
If you want to more information on how to assess your water-damaged electronics here's a previous post on that useful subject.
Knowledge is Power
At ACS we believe knowledge is power. If you are searching for a repair center for your damaged industrial electronics check first to see if your equipment is still under warranty. If it is still under warranty contact the OEM about repairs. If it is out of warranty, contact an independent industrial electronic repair center to find out if they are a good fit for your company and your particular repair needs. They should offer free evaluations for your damaged equipment and, if needed, a free quote for repairs (no bench fees!). They should also provide repair reports if requested and a good warranty of at least one year (more would be better!) that covers both parts AND labor.
About the Author: ACS Industrial Services is an independent industrial electronic repair center providing repairs for all types of industrial electronic equipment and most all manufacturers including operator control repairs, HMI repairs, circuit board repairs, touch screen repairs, power supplies, VFD AC & DC drive repairs, servo motors, CNC equipment, encoders, monitors, test equipment, and much more. RUSH SERVICE is available and a comprehensive 2-Year Warranty covers most repairs. The super-helpful customer service team is available to answer your questions and help solve your toughest industrial electronic repair problems. You can reach them by calling 800-605-6419. Or check out ACS's incredible new easy-to-search Repair Catalog!