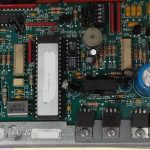 Well, yes and no! When we use "automation" and "robotics" in the same sentence, we are usually talking about industrial automation. That is – controlling the physical processes of manufacturing with non-human machinery.
That automated machinery is made up of numerous components including, but not limited to:
Teach Pendants
Monitors/HMI's
Servo Motors
Drives
Axis Boards
Operator Control Panels
Wrist Assemblies
Processors
Spot Welding
Amplifiers
Power Supplies
Weld Guns
End of Arm Tooling
Circuit Boards
These components together create both physical machines and control systems that automate previously human tasks in an industrial process. If this sounds futuristic, it's not! It's here now and here to stay.
The CNC machines we are all familiar with are common examples of automation in manufacturing. Robots, however, take things quite a bit further.
How are robots impacting us?
Let your imagination run wild and then double that! The automation robotics market is expanding at a fantastic rate as robots replace humans in industry in the U.S. and abroad. For example, construction robotics alone are expected to grow 450% in the next five years, and similarly medical robots. This is mind altering for many of us!
So what exactly IS the difference between automation and robotics?
Automation — Automation involves the use of computer software, machines and/or other technology to carry out a task which was previously done by a human. There are many types of automation. These range from the mechanical to the fully virtual. And from the simple to the very complex. A recent tour I took of a major international cosmetics company plant was a great example of both simple and highly complex automation.
Robotics — Robotics incorporates multiple disciplines to design, build, program and use robotic machines to complete human tasks, using both physical elements and usually some type of artificial intelligence.
The two are typically interrelated, though not always. Robots are used to automate some physical tasks, such as in manufacturing.
Some good news!
These systems can be expensive but they can also save a lot of money in the long run. If you've invested a lot of money into your automation systems you will want them to last for a good, long time! The really good news is that this often-expensive equipment can be repaired when damaged.
Do you have questions or concerns about your robotics and automation equipment, or do you think it may need service? If it's still under warranty, contact your OEM. If it is out of warranty, contact an independent industrial electronic repair center. They should offer free evaluations for your automation components and, if needed, a free quote for repairs. They should also provide repair reports and a good warranty that covers both parts and labor.
About the Author: ACS Industrial is an independent industrial electronic repair center providing repair services for automation equipment of most types and most all manufacturers including Fanuc repairs, Nachi repairs, Kawasaki automation repairs, ABB repairs, Yaskawa repairs, Sick repairs, Kuka repairs, Comau repairs, and Motoman repairs , as well as servo drive repairs, VFD drive repairs, teach pendant repairs, HMI and Operator Control repairs, servo motors, encoders, printed circuit board repairs, monitors and touchscreens, PLCs, test equipment, and much more. Our customer service team is available to answer your questions and help solve your industrial electronic repair concerns. Legacy equipment can be repaired! RUSH Service is available. You can reach them by calling 800-605-6419