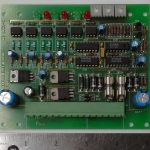 REAL LIFE STORIES: Even a tiny damaged circuit board can cause BIG problems! When you are producing aluminum and steel you need to be able to be able to shear! In the right place at the right time! What happens when you can't? Downtime and a whole lot of frustration!
This is the frustration we heard from our steel and aluminum manufacturer customer: "This board input signals are correct but the outputs are random and incorrect. This board controls a shear and the shear will not operate correctly."
Random and incorrect shearing = big headache! The good news is this Nedpar circuit boards p/nOE 1001-1/ was perfectly repairable! It needed a lot of cleaning and a lot of new components including 11 capacitors, 6 optocouplers and 3 ICs. It was evaluated, quoted, repaired, tested and shipped back in just 5 business days getting our customer back up and running! Or should we say back up and shearing?
Frustration quickly became satisfaction! Here's what our customer had to say:
"Hi Larry, I wanted to thank you and your team for the expedited service fixing our circuit board. The board has been installed and we are back up and running. Thank you all again for the excellent service" – Greg.
This makes our day! Solving our customer's electronic repair problems is what we live for! Do you need circuit board repairs too? Nedpar circuit board repairs? We can help!
If you want to know how you can get more out of your circuit boards and extend their life use this link to a previous post you will want to check out. But if the time has come for circuit board repairs and you find yourself searching for a repair center for your damaged electronics, check first to see if your equipment is still under warranty. If it is still under warranty contact the OEM about repairs.
If your industrial circuit boards or electronics are out of warranty and need repairs, contact an independent industrial electronic repair center to find out if they are a good fit for your company and your particular repair needs. They should offer free evaluations for your damaged equipment and, if needed, a free quote for repairs (no bench fees!). They should also provide repair reports upon completion if requested and a good warranty of at least one year that covers both parts and labor.
About the Author: ACS Industrial Services is an independent industrial electronic repair center providing repairs for all types of industrial electronic equipment and most all manufacturers including circuit board repairs, logic board repairs, industrial power supply repairs, drives, servo motors, CNC equipment, encoders, monitor and touchscreen repairs, test equipment, and much more. Rush Service is available and a comprehensive 2-Year Warranty covers most repairs. The knowledgeable and helpful customer service team is available to answer your questions and help solve your toughest industrial electronic repair problems. You can reach them by calling 800-605-6419.