If you're an owner, operator, or manager in an industrial setting, it's impossible to be everywhere at once. You have to rely on your personnel and team to make sure machinery and operating systems are being closely monitored – and updated.
Creating a Failure Analysis Process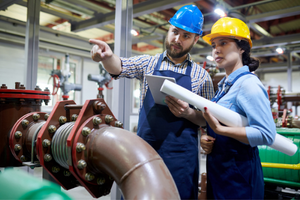 However, it can be a challenge keeping up with everything. Sometimes it can be due to the lack of time in the course of a day or week.
Regardless of where the problem lies, you can take steps to tighten up the process, and ensure that the chain of command and communication has been established correctly, and that everyone knows how it works, and how to move information from one party to another.
A failure analysis program can be a useful tool – and while it may sound complicated and complex, it doesn't have to be.
It can be easy to fall into the trap of overthinking a failure analysis program because you want it to be detailed and comprehensive, but if it becomes too complex, your program can cause more problems than it solves.
Start with these basic categories:
Answering these questions can help you begin to organize your process – and while it may seem too broad, you can obtain a clear picture of responsibilities, the personnel involved, and determine if the right skill sets are in place.
From this point you can begin to add more detail to the failure analysis process, and focus on more specific factors.
Common Types of Failures
The factors that contribute to component and equipment failure can range from overload to the operating environment. Missed maintenance checkups can be another culprit.
For instance, internal drives and motors are the workhorses of a system, and experience a great deal of vibration, high temperatures, and components that have short life cycles. Lubricants can break down over time and allow for increased friction.
Decide how to counter these problems, and confirm how often maintenance protocols are being followed, and if they're recorded and shared.
Methodology at Work
Establishing the process is the goal of this step. While each operation can vary depending upon what's being manufactured, most of these steps can be applied to your situation.
Diagnosis
Background data collection
Component inspection
Confirm physical failure
Determine human root causes
Each of these steps produces information that can be collected and reviewed, but in order to work they must be consistent and enforced. Don't allow employees to customize these steps, but listen to their feedback and suggestions.
In cases where production is ramped up due to customer demand, internal systems can become overworked and prone to failure. There might be a need for adding additional parts to an assembly line so the workload is more evenly distributed.
Operator error and the "human factor" should be accounted for. You may have employees who aren't qualified or are taking matters into their own hands.
Be honest in your assessments and refer to concrete data: employee reviews, production output, and maintenance records are several examples.
Finally, write a course of action for how the problem will be properly fixed via increased maintenance, locating parts that may need to be fixed, or evaluating the need for replacing the equipment in question.
Failure analysis programs aren't finished overnight, they require collecting information from multiple sources, analysis, and then agreeing on a final version that has buy-in from everyone involved – from front line personnel to upper level management.
Following your failure analysis program can help solve problems, save money, and contribute to a more successful operation.
ACS Can Help
As your failure analysis program produces results, you may find that certain components or parts might need to be repaired instead of completely replaced.
When that happens, contact the experts at ACS, we offer a free evaluation and repair quote for a variety of electronic repair and services.
Repair can often save as much as 80% of the cost of buying a new piece of equipment.
Most repairs are back in your hands in 7-15 days after approval.
Our Rush Repair Service ships in just 2-5 days after approval.
We Guarantee Our Repairs With A Full Two-Year Warranty.
For a Free Evaluation, use our RMA Form link or Contact Us. You can also reach us at 800-605-6419 and speak to someone on our customer support team.