When it concerns machinery and the parts that help make the entire system run, it's important to know what role each one plays in order to troubleshoot problems that may arise.
One of the integral pieces of many processes is the Variable Frequency Drive (VFD). This controller drives AC induction motors by varying the motor input frequency, which controls the voltage, speed, and torque.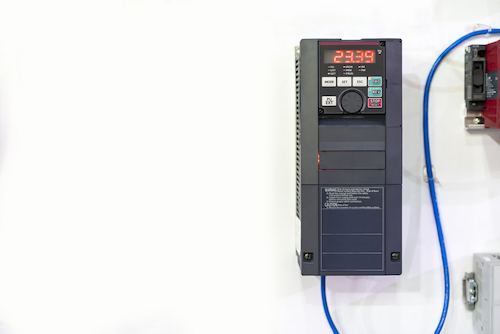 While Variable Frequency Drive is the most common term used, it should be noted that these drives can also be referred to as an AC Drive, Variable Speed Drive, or Inverter.
In addition to helping run the motor at full speed, reducing the output's frequency will decrease the speed of the motor, thus providing control to the load.
Why use a VFD?
A VFD saves energy and money, and can be programmed for a softer startup of the system, which reduces energy by cutting down the inrush current. A regulated motor that can run a pump under top speed uses less energy than one that runs at a constant speed for the same duration.
This equipment also eliminates the need for mechanical components, such as a gearbox, to regulate speed. Having better control of a motor's speed also increases the life of a coupling device.
Where a VFD Can Be Used
Conveyors, pumps and fans are typical applications for the VFD and AC motor because speed control, and not necessarily position, is important.
How a VFD Works
AC voltage is usually present at the input of the VFD. This AC voltage is converted to DC voltage with the use of a bridge rectifier, which filters the DC voltage via the use of electrolytic capacitors to provide stability.
The DC voltage is then converted back to AC voltage with the help of power devices, such as the IGBT power transistor. The frequency is controlled by turning the IGBT on and off at different intervals, which is called Pulse Width Modulation (PWM).
A speed reference can be a simple set point. More complex situations require a PLC or tachometer for speed reference.
VFD Troubleshooting
Like any piece of your system, VFDs can cease to function properly, or completely shut down. Electronic components fail, as do mechanical components. It is a good idea to troubleshoot all of the components involved in the system before determining that the VFD is the cause.
This includes verifying the Source Voltage to the VFD. Any interconnects between the components should be checked, in addition a loose connection could also be a problem.
Remember to verify that the motor is not causing excessive load to the VFD and that nothing mechanical has worn out or is in a bind.
Mechanical and motor problems can also lead to the early failure of the VFD. Operating conditions, such as increased contaminants and moisture, can also affect your system.
ACS Can Help Repair your VFD!
If your VFD isn't working like it once was, or has stopped altogether, let the experts at ACS give you a free evaluation and repair quote for your drive.
Repair can often save as much as 80% of the cost of buying a new piece of equipment.
Most repairs are back in your hands in 7-15 days after approval.
Our Rush Repair Service ships in just 2-5 days after approval.
We Guarantee Our Repairs With A Full Two-Year Warranty.
For a Free Evaluation, use our RMA Form link or visit our website and click on the "Contact Us" button on the upper right hand. You can also reach out to us at 800-605-6419 and speak to someone on our customer support team.