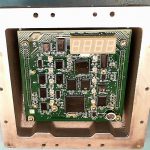 Did your Ingersoll Rand Controller 22173579 stop controlling? Quit on the job? This is frustrating! We get it – it's a time consuming, costly annoyance to deal with a damaged or malfunctioning controller.
Good news! These Ingersoll Rand controllers are pretty well made and usually repairable! This is often true even for LEGACY units that are well past their warranty expiration date.
What might be wrong with YOUR Ingersoll Rand Controller?:
There are some commonly seen failures for these units. These are usually related to aging components. Problem description reports include getting ERROR Codes 51 and 71. The CAN communication IC (CAN is a specific communication standard) is a high failure rate in these units. This is due to their susceptibility to noise and spikes. The voltage to frequency IC is also a common failure.
The electrolytic capacitors, as always, have a 'lifetime' and will need to be replaced eventually. There is a backup battery (a repair tech is needed for this as it is not customer replaceable) that may eventually fail as well. Output transistors also are occasionally bad in these controllers and can be replaced.
Here are a few recent examples of Ingersoll Rand Controller repairs. Key failures and major component replacements are shown (all repairs also included cleaning and testing and/or repair of all other components):
Ingersoll Rand Controller OEM – 22173579
Problem reported: stopped "working". Repairs included: Replacing bad capacitors, interface IC, opamp IC . This unit was repaired for about 75% less than the cost of replacement!
Ingersoll Rand Wedge Controller Comm. No. 22173579
Problem reported: Machine runs 20 seconds and shuts off prematurely and will not speed up. Sometimes won't crank. Repairs included: Replacing bad capacitors and ICs
Ingersoll Rand Controller 22173579
Problem reported: Has a fault code 71 "CAN bus". Repairs Included: leaky capacitors replaced and damage from leak cleaned/repaired, CAN IC replaced.
Ingersoll Rand Wedge Controller 22173579
Problem reported: Error code: 51. Cannot communicate with engine to start. Repairs included: COMM IC AND Serial Logic IC replaced.
We believe knowledge is power. If you are searching for a repair center for your damaged Ingersoll Rand Controller or other industrial electronics, check first to see if your equipment is still under warranty. If it is still under warranty contact the OEM about repairs. If it is out of warranty, contact an independent industrial electronic repair center to find out if they are a good fit for your company and your particular repair needs. They should offer free evaluations for your damaged equipment and, if needed, a free quote for repairs (no bench fees!). They should also provide repair reports if requested and a good warranty of at least one year (more would be better!) that covers both parts AND labor.
About the Author: ACS Industrial Services is an independent industrial electronic repair center providing repairs for all types of industrial electronic equipment and most all manufacturers including Ingersoll Rand repairs, repairs for touchscreens, controller repairs, circuit board repairs, power supplies, VFD AC & DC drive repairs, servo motors, CNC equipment, encoders, monitors, test equipment, and much more. RUSH SERVICE is available and a comprehensive 2-Year Warranty covers most repairs. The super-helpful customer service team is available to answer your questions and help solve your toughest industrial electronic repair problems. You can reach them by calling 800-605-6419. Or check out ACS's incredible new easy-to-search Repair Catalog!