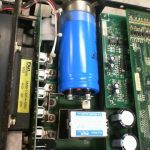 "Please rush this as fast as possible! We are down!"
We get it! We don't like downtime either! It's costly! Time to jump into action! Let's get this Sanyo Denki Drive CFZ0A100DR4601 with error codes back to working order.
So what was wrong with this old and very dirty drive unit?
Mostly just that – age and dirt, lots of build up! There's no getting around that! Testing showed numerous components had failed. To repair this drive would mean virtually rebuilding it. And that's what our customer needed us to do!
We replaced many components including:
10 capacitors on all control boards, bus-cap, and

IGBT

installed a new fan

reworked the gate circuits

tested and repaired the breaking /regenerative circuits

tested and repaired the relay's contacts

tested the entire unit

Did we mention it was really dirty? Lots of cleaning to get rid of all the build up!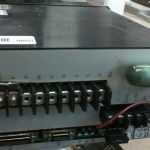 In just a few days this unit was back to work – practically brand new again! With a two year warranty! And best of all, our mid-west US customer reported success after installing their rebuilt Sanyo Denki drive! Their CNC shop was back to work machining both gray and ductile iron! Good stuff! We love our CNC machining customers!
Do you have questions or concerns about your servo drive, or you think it may need service? If it's still under warranty, contact your OEM. If it is out of warranty, contact an independent industrial electronic repair center. They should offer free evaluations for your servo drive and, if needed, a free quote for repairs. They should also provide repair reports and a good warranty that covers both parts and labor. Need a little more information about identifying a problem with your servo drive? Go here for a previous post on the 7 Signs!
Is your Sanyo Denki drive giving you error codes? Not working? We can help!
About the Author: ACS Industrial is an independent industrial electronic repair center providing repair services for servo drives and motors of all types and most all manufacturers as well as for AC/DC drives, VFD drives, encoders, printed circuit board repairs, monitors and touchscreens, PLCs, test equipment, and much more. Their helpful and knowledgeable customer service team is available to answer your questions and help solve your industrial electronic repair concerns. Legacy equipment can be repaired! RUSH Service is available. You can reach them by calling 800-605-6419