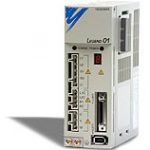 Are you getting error codes? Drive won't enable? Servo motor won't move? Not getting the proper voltages to your servo motor? The problem could be inside your servo drive! Servo drives can and DO go rogue! But there are signs to look for to see if your servo drive might need repairs!
So, What's Wrong With My Drive?!
Industrial electronics, including drives, have a lifetime – and the components do too! Aging components is the single most common reason for failure. Capacitors are often the first component to fail. Other likely failure culprits include resistors, diodes, IGBTs, driver ICs, relays, transistors, transformers, opto-isolators, and rectifiers, as well as others.
What Can Speed Up Servo Drive Component Aging?
Like humans, not getting the right care can speed up the aging of your servo drives. Voltage cycles, voltage spikes, increased switching activity, harsh environmental factors such as excess vibration and heat, and lack of preventive maintenance can all accelerate the aging of your servo drives costing you money!
7 Signs of Servo Drive Failure – What You Should Look For:
Many component failures in a servo drive are visible to the naked eye, even to the non-technical inspector. The circuit boards are often where the problems are. Failing components may still work but cause intermittent problems. Eventually they will fail completely leaving you in the lurch. Here are seven things to look for that tell you servo drive repairs are likely needed soon, if not immediately, for your drive to function optimally:
Burned spots on the circuit boards
Corrosion
Leaking or bulging capacitors
Component color change often due to overheating
Component date codes that have expired or will soon
Tarnish on leads
Cracked resistors
Case Study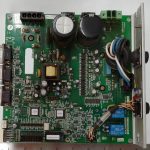 This Kollmorgen Servo Drive p/n PRD-K0620R0 arrived for repairs from a southern U.S. fabricating facility. The drive would not enable, so no fabricating getting done at all! What was wrong? Plenty! Aging components were replaced including the capacitors, drive IC chips (also a high failure component on these drives) the IGBT, Communication ICs, optocouplers, IPM, TTL ICs. Pretty much everything needed replacing and/or cleaning. This drive was completely repaired and returned to full service for far less than the cost of replacement. These drives are good quality drives that frequently justify getting repairs!
What About the Invisible Problems?
Visual inspection is the first action to take. However, you may see nothing obviously wrong. So, what next? The next step requires the use of test equipment. Oscilloscopes and multi-meters can be used to test components to see if they are failing or out of spec for other reasons. This is where you may find yourself considering an industrial electronic repair company which can ultimately save you time and money.
Do you have questions or concerns about your servo drive, or you think it may need service? If it's still under warranty, contact your OEM. If it is out of warranty, contact an independent industrial electronic repair center. They should offer free evaluations for your servo drive and, if needed, a free quote for repairs. They should also provide repair reports and a good warranty that covers both parts and labor. Want a little more about protecting your servo drive investment, go here.
Here's a sampling of past drive repairs ACS has performed, and past pricing. Your quote may be less or more, depending on the condition of your unit:
| | | | |
| --- | --- | --- | --- |
| Kollmorgen | CE03250 | Servo Drive | $940.00 |
| Kollmorgen | CE10250 | Servo Drive | $1,135.00 |
| Kollmorgen | CR03260-000000 | Servo Drive | $1,317.00 |
| Kollmorgen | CR03550 | Servo Drive | $914.20 |
| Kollmorgen | CR06250 | Servo Drive | $988.00 |
| Kollmorgen | LR06565 | Drive | $1,420.00 |
| Kollmorgen | M.3000.0912 | Drive | $1,200.00 |
| Kollmorgen | PRD-K0620R0z-00 | Servo Drive | $1,850.00 |
| Kollmorgen | S67001 | Servo Drive | $2,915.00 |
| Kollmorgen | SC1R06260 | Servo Drive | $1,929.00 |
| Kollmorgen | SE20200-000000 | Servo Drive | $1,740.00 |
| Kollmorgen | SR30201-000000 | Servo Drive | $312.50 |
About the Author: ACS Industrial is an independent industrial electronic repair center providing repair services for servo drives and motors of all types and most all manufacturers as well as for AC/DC drives, VFD drives, encoders, printed circuit board repairs, monitors and touchscreens, PLCs, test equipment, and much more. Our customer service team is available to answer your questions and help solve your industrial electronic repair concerns. Legacy equipment can be repaired! RUSH Service is available. You can reach them by calling 800-605-6419