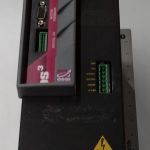 From the outside, this drive looks innocent enough.  But on the inside all HELL was breaking loose! "
C Axis drive not ok Error
" was the symptom reported.
.
.
What would cause all this in a servo drive?
Excessive heat, over or under voltage surges and sags and/or rises in equivalent series resistance values are all possibilities along with component aging. In the case of the burned traces, other causes could include previous use of inappropriate acid core solder causing a short, or contaminants such as metallic dust, common in manufacturing facilities.
That's some BAD stuff …but this servo drive was heroically saved by our ACS techs! For less than HALF the cost of a new drive! It is back in service in a large, southern U.S. CNC machining company.  And that's some GOOD stuff! Need help with your servo drive repairs? We can help! With your Osai-Prima equipment repairs? We can help with that too!
Do you have questions or concerns about your servo drives, or do you think you may need servo drive repairs?
If it's still under warranty, contact your OEM. If it is out of warranty, contact an independent industrial electronic repair center. They should offer free evaluations for your servo drive and, if needed, a free quote for repairs. They should also provide repair reports and a good warranty that covers both parts and labor. Here's a link if you want to find out more about signs your servo drive might need repairs?
About the Author: ACS Industrial is an independent industrial electronic repair center providing repair services for servo drives and motors of all types and most all manufacturers as well as for automation equipment, AC/DC drives, VFD drives, encoders, printed circuit board repairs, monitors and touchscreens, PLCs, test equipment, medical equipment and much more. Our knowledgeable and helpful customer service team is available to answer your questions and help solve your toughest industrial electronic repair concerns. Legacy equipment can be repaired! RUSH Service is available. You can reach ACS Industrial Services by calling 800-605-6419