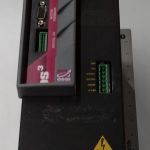 From the outside, this drive looks innocent enough.  But on the inside all HELL was breaking loose! "
C Axis drive not ok Error
" was the symptom reported.
.
.
What would cause all this in a servo drive?
Excessive heat, over or under voltage surges and sags and/or rises in equivalent series resistance values are all possibilities along with component aging. In the case of the burned traces, other causes could include previous use of inappropriate acid core solder causing a short, or contaminants such as metallic dust, common in manufacturing facilities.