There's an excellent chance that your operation, regardless of what it produces, runs for extended periods of time at aggressive speeds. In order to achieve your goals and keep everything running right, it's important to keep your manufacturing equipment clean and well maintained.
Manufacturing equipment that is regularly cleaned helps reduce down time. Even if your operation is only halted for an hour, the impact on your production and profits can severely affect your bottom line and production output.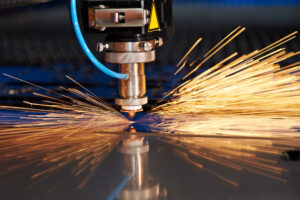 Cleaning your manufacturing equipment can improve employee safety – heavy machinery that malfunctions can create dangerous situations. There could also be guidelines set down by safety organizations such as OSHA that require regular cleaning. Don't forget to keep records in case of an inspection.
There are several different methods you can use to achieve cleanliness. It's also a good idea to schedule specific times when this task is performed. You may have a staff dedicated to this job, but you can also remind your front line employees to take extra precautions when they're operating their equipment.
Lubrication
You need to keep manufacturing equipment clean, and lubrication is key. Well oiled and lubricated machines pick up less dust and debris. Lubricating also allows you to take a close look at seals, gaskets, and other essential components.
Don't forget to use the lubricant specified by the manufacturer. If not, the result can be increased wear or shutdown of the equipment.
Power Washing
Before you consider this method, check with the equipment specs. A power washer can quickly remove dirt and grime from the machinery and allow for a closer inspection of key stress points that might be failing.
If your operation is large scale, a pressure washer might not be the answer. There are larger washers, also known as water cannons, that deliver high pressure water. Again, check with the operating instructions so you don't wind up causing more harm than good.
Software Monitoring
Certain manufacturing equipment comes with software that can alert operators when it's time for scheduled maintenance. The software can also provide instant analytical information that can be monitored on a continual basis. Sensors hooked up to the software can indicate if part of a system is underperforming, allowing you to determine if it's time for cleaning procedures.
ACS Industrial Can Help
Even with regular cleaning and maintenance, your machinery can malfunction or show signs of a complete breakdown. When this happens, contact ACS Industrial. Our experts can work with you to pinpoint components that are no longer working and what needs to be done to get them functional.
When you send in your part that needs repair, you can expect the following from us:
To save up to 80% of the cost to buy a new one
Most equipment will be back in your hands in 5-15 days.
With our Rush Repair option you can have your equipment back in just 2-5 days.
A guarantee on our repairs with a full two-year warranty .
For a Free Evaluation, use our RMA Form link or visit our website and click on the "Contact Us" button on the upper right hand. You can also reach out to us at 800-605-6419 and speak to someone on our customer support team.