Ever been told that your operator control panel is unrepairable? Or that you would need to upgrade to continue production? Yep, I thought so.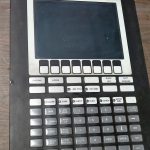 I know, we've mentioned this situation before but it happens to our customers so often it's worth repeating. Please don't throw in the towel on your dependable legacy equipment too fast.  Here's a perfect example of  a piece of  out-of-warranty, legacy equipment that our customer desperately did not want to have to replace.
This Cincinnati Milacron (Siemens) controller 3-424-2319A02/J did have some serious problems. It booted up but the screen didn't work making it useless in production. Our customer was told by the OEM that it was unrepairable "due to the power supply".
Frustrated but determined, our design and development engineering customer sent this controller in to ACS, hopeful for repairs. Their hopes were rewarded! It did take a little extra effort to locate parts, and to carefully remove and restore the protective coating from the boards. The end result is that this unit is now working beautifully – we replaced the old capacitors, replaced an open fuse, the backlight inverter was repaired, and all the connections were reseated. The unit then received a final cleaning, and was retested. Success!
Our customer was so relieved they wrote to tell us about it! "Kristy, A big thank you for pushing our op panel repair through with success! The op panel booted up and we are now running again. Thanks to you, and the ACS staff, we diverted a major op panel upgrade as the only option. Please thank all involved." – Vern
Of course, not all legacy equipment is repairable, or even should be repaired. If you find yourself wondering whether to repair or replace here's a previous article we published with some tips on deciding. OR, you can send it to us and our technicians can help you make that decision.
Do you need help with your legacy equipment? Operator control panels giving you a fit? Need Cincinnati Milacron Siemens repairs? We can help.
About the Author: ACS Industrial is an independent industrial electronic repair center providing repair services for controls of all types and most all manufacturers as well as servo drive repairs, AC/DC drives, VFD drives, servo motors, encoders, printed circuit board repairs, monitors and touchscreens, PLCs, test equipment, and much more. Our customer service team is available to answer your questions and help solve your industrial electronic repair concerns. Legacy equipment can be repaired! RUSH Service is available. You can reach them by calling 800-605-6419