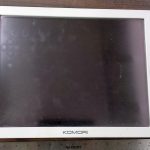 REAL LIFE REPAIR SOLUTIONS : Komori Touchscreen went blank…and also, your question answered.
Here's one question we get asked a lot… "To send in an item for repair, do we need to know what the problem is with the unit?"
The short answer? No!
Relax, this is ok. We've got this! Figuring out the problems with your electronics is OUR job. While it is always helpful to have a description of what is happening with your unit you sent in for repairs, it is not usually necessary. Sometimes items arrive on our dock saying simply "doesn't work" or "…stopped working", or even "been sitting on the shelf, not sure if it works".
Perfect recent example: this Komori Touchscreen p/n MTM-15DK arrived at ACS with a hand written note that said "Screen went blank, no idea what the problem is." Yes, this is fine. We can, and did, take it from there. Good news – some simple testing showed that this unit needed a new inverter and a new LCD panel.
Even better news? A repair like this, with minimal input from our Eastern U.S. printer customer, came in at a cost of less than 28% the cost of buying a new one! What a great win-win result! No budget-busting new touchscreen required! If you are having problems with your industrial touchscreen, we can help!
About the Author: ACS Industrial is an independent industrial electronic repair center providing repair services for touchscreens of all types and most all manufacturers as well as servo drive repairs, AC/DC drives, VFD drives, servo motors, controls, encoders, printed circuit board repairs, monitors, HMIs, test equipment, and much more. Our customer service team is available to answer your questions and help solve your industrial electronic repair concerns. Legacy equipment can be repaired! RUSH Service is available. You can reach them by calling 800-605-6419.