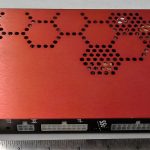 Small but mighty, servo drives are critical players on the industrial playing field. These drives are common in CNC machining, factory automation, and robotics . The Teknic SST-1500-561 servo drive is a frequent flyer – meaning there are a lot of them out there working hard (see photo). If your drive faults out you will know it! Production pretty much comes to a stop!
These Teknic servo drives are good, solid equipment. But, like anything getting hard use in a harsh environment, these drives eventually break down. What should you look for? What should you expect? Here's some answers:
What Happened?
Here's are some common failures for these drives. Do any of these sound familiar?
DC voltage overload, have a blinking green fault indicator
Count 5 ERROR
LED Blinks 5 times
Currently running with the z axis drive but having intermittent problems, giving an xb axis drive fault
Blink Count 3 ERROR. "Over Current/Voltage" message displayed on m/c control
5 Blink count, as soon as the motor is signaled to move
3 blink count, will not power off during a reboot
Z-axis controller ERROR message – servo stop z-axis
That all sounds like major frustration on the plant floor, but there's a fix for that! These Teknic drives are usually repairable for a reasonable cost. The repair cost is usually less than it would cost to buy a new one or refurbished one.
Typically you will find aged and blown components inside, along with trace and solder damage. Occasionally this type of damage may be visible to the naked eye. More often it requires testing to find which components are blown and which are about to go next which is an important part of a good repair!
Common repairs for these drives:
Mosfets and capacitors replaced
Regulator and the capacitors replaced
Regulator, capacitors, driver ic replaced, repaired cold solder joints
Recapped, reflowed cracked solder joints, replaced driver ICs and Mosfets
Replaced shorted IGBTs, shorted Mosfet and 5 others that work in sequence on an output
Recapped and rebuilt output circuit replacing all optos, FETs, and driver ICs
Replaced Mosfets capacitors and driver ICs
These servo drive problem descriptions give you the picture – recurring component failure. Typically, the culprits are the capacitors, mosfets, regulators, ICs, and IGBTs. A thorough testing, cleaning and replacement of blown and aging components can bring these Teknic SST-1500-561 servo drives back to life quickly.
Have Questions?
Do you have questions or concerns about your servo drive, or you think it may need service? If it's still under warranty, contact your OEM. If it is out of warranty, contact an independent industrial electronic repair center. They should offer free evaluations for your servo amp and, if needed, a free quote for repairs. They should also provide repair reports and a good warranty that covers both parts and labor.
Repair of quality industrial equipment like this Teknic servo drive can be a great way to save money and time, as well as be environmentally responsible. If your Teknic SST-1500-561 servo drive needs repairs, we can help!
About the Author: ACS Industrial Services is an independent industrial electronic repair center providing repair services for drives of all types and most all manufacturers including servo drive repairs, AC/DC drives, VFD drives, servo motors, encoders, printed circuit board repairs, monitors and touchscreens, PLCs, test equipment, and much more. Our customer service team is available to answer your questions and help solve your industrial electronic repair concerns. Legacy equipment can be repaired! RUSH Service is available. You can reach them by calling 800-605-6419.