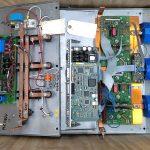 "Stop the Presses!" is only a GOOD thing when there is exciting breaking news. It's all bad news when the press comes to a stop because it is BROKEN. This Heidelberg Press Electronic Drive went bad leaving our East Coast fine printing press customer in the lurch and needing Heidelberg repairs
"Voltage going in but nothing coming out" was the problem description. Yes, that WOULD happen when 14 bus capacitors were blown, the IGBT was bad and the gate board needed repairs.
Following a regular preventive maintenance program can help minimize dreaded downtime. A printing press preventive maintenance program would include, at a minimum:
oil and lubricant changes

replacement of quick wear parts

calibration

air and oil filter replacement

system inspections and setting.

Keep your printing press in good form so it's productive AND profitable!
Our customer reported back that the repaired drive is back to work and the presses are running great! That's great news!
Here's what they had to say, "Thank you and the staff at ACS for the quick turnaround on both the repair and the shipping. It's a pleasure doing business ACS. Thank You". – D.C.
We are glad to be of service – it's our goal to provide great repairs with great service.
About the Author: ACS Industrial is an independent industrial electronic repair center providing repair services for drives of all types and most all manufacturers including servo drive repairs, AC/DC drives, VFD drives, as well as servo motors, encoders, printed circuit board repairs, monitors and touchscreens, PLCs, test equipment, and much more. Our customer service team is available to answer your questions and help solve your industrial electronic repair concerns. Legacy equipment can be repaired! RUSH Service is available. You can reach them by calling 800-605-6419.