Real Life Repair Solutions from the Plant Floor – Festo PLC Needs Repairs NOW!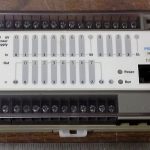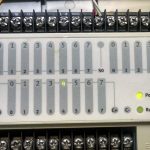 In real life things break, especially when you are in a hurry, right? For our U.S.-based supplement manufacturer customer having a PLC go down was not good for filling orders on time.
In their words, "This (Festo PLC P/N FEC-FC34-FST) isn't getting the signal properly to the vertical dies and telling them to move up or down; PLC will cycle one or two times, then the run light changes from green to red and the machine stops. Also, when this happens the dies will close and not reopen." Bummer!
A number of things could cause this irritating trouble. In this case the PLC had some bad traces under the relays, a bad relay, all bad supply caps, and a bad Data Latch/D-type Transparent Latch.
Once all the cleaning and repairs were complete the unit was powered up and we tested each input for proper operation. All good to go! Back to making supplements for consumers – and filling orders on time! Do you need PLC Repairs? We can help! Do you want to know more about PLC Repairs and Troubleshooting Tips?
One important tip before removing your PLC : If the red battery light on your PLC comes on DO NOT down the power! First, get the program backed up BEFORE you attempt to change the battery(s).) You will thank yourself for this later!
About the Author: ACS Industrial is an independent industrial electronic repair center providing repair services for PLCs of all types and most all manufacturers as well as servo drive repairs, AC/DC drives, VFD drives, servo motors, encoders, printed circuit board repairs, monitors and touchscreens, controls, test equipment, and much more. Our customer service team is available to answer your questions and help solve your industrial electronic repair concerns. Legacy equipment can be repaired! RUSH Service is available. You can reach them by calling 800-605-6419.