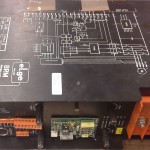 Buyer beware! Caveat emptor….you've heard it many times. And when buying used industrial electronics (or anything for that matter) be hyper alert for problems. This 1986 Vickers controller S40 was purchased second hand for use in a sheet metal fabricating shop.
As it turned out, the controller did have more than a few problems.  Soon after purchase the Y Axis controller was losing Y values during a run which the customer kept to a minimum by cooling with an external fan.  Months later the unit was failing on start up. When this unit is working properly the L5 L6 L7 all light up ready to work but the customer ended up with just the L4 lighting.
On top of all that, it appeared that previous repairs had been attempted which had not solved the problems. In fact, the "repairs" themselves were the biggest problem. Because it was purchased used, our customer had no idea what the history was with this unit. It was just a hot mess, literally.
Bad times at this Australian sheet metal fabrication shop. Luckily, this unit was repairable, and just as importantly, worth repairing. After disassembling the unit and identifying the problems repairs were performed including repairing the switcher supply circuitry and replacing all the supply caps and buss caps. All of the components were checked including the IGBTs and any that were aging were replaced. The unit was thoroughly cleaned, reassembled and tested before shipping back to the customer in working order.
After receiving the repaired unit back in Australia, our customer gave our team a 5 STAR review and had this to say: "repaired unit works as it should, many thanks" – John . We are glad this story turned out so well!
Not all stories do turn out so well. Buying used electronics can save a lot of money, or sometimes not. It's not necessarily that the seller is trying to get one over on you (although they may), it's just that sometimes the problems may be unknown. Before purchasing used industrial electronics do your due diligence to the extent possible including:
Inspect the condition
Test the unit if possible
Confirm its authenticity
Make sure there is a warranty, or at least know the return policy before purchasing
If it seems too good to be true, it probably IS, so walk away and keep looking
If the good deal you bought turns out to be a possible dud and you end up needing an industrial electronic repairs center for your damaged controller or other industrial electronics, check first to see if your equipment is still under warranty and if so, contact the OEM about repairs. If it is out of warranty, contact an independent industrial electronic repair center to find out if they are a good fit for your company and your particular repair needs. They should offer free evaluations for your damaged equipment and, if needed, a free quote for repairs (no bench fees!). They should also provide repair reports if requested and a good warranty of at least one year that covers both parts and labor.
About the Author: ACS Industrial Services is an independent industrial electronic repair center providing repairs for all types of industrial electronic equipment and most all manufacturers including power supply repairs, circuit boards, drives, servo motors, CNC equipment, encoders, monitors and touchscreens, test equipment, and much more. Rush Service is available and Two Year Warranties cover most repairs. The customer service team is available to answer your questions and help solve your industrial electronic repair problems. You can reach them by calling 800-605-6419 or going to www.acsindustrial.com.