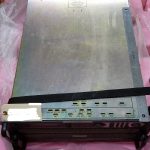 REAL LIFE ELECTRONIC REPAIR SOLUTIONS FROM THE PLANT FLOOR:  As a plant manager or owner, a number of situations come to mind as being "nightmarish". One of them would probably include "flood" and "water damaged electronics". In this case, rain poured into a roof vent accidentally left open in our customer's clean lab. The end result was a water-damaged Sorenson power supply  SGI100/200E-1CAA/A that no longer worked and a very unhappy lab manager.
Fortunately, the damage to the power supply was not catastrophic, as can often be the case with water damaged electronics. Still, it was a lot of work to take this unit apart and clean it, dry it, do a component level evaluation, replace all damaged components including the bus-caps on the power output module, reflow the cold solder joints, test it repeatedly, and reassemble it.
Even with ALL of that, the cost to repair this Sorenson power supply was STILL considerably less than buying either a new or a reconditioned power supply. AND, it now has a two-year warranty which, considering its recent history, is probably a very good thing!
Our customer was relieved, to say the least, when the unit arrived back in their lab and worked! Here's what they had to say, "…It was received in good condition and so far I am happy with the work. We are new to you guys and I will now be using you for any needs I have. Thanks for the excellent support!" – Jesse.
We have to say, when we are able to save the day from what could have been an expensive disaster, our whole ACS team feels great! Job well done! And Jesse, we would be delighted to help you solve more of your toughest electronics repair challenges! It was a pleasure doing business with you!
As for water damaged electronics, many can be repaired. If your item is of high value and did not receive extensive water damage, there is a chance it can be saved! In a previous post we discussed how to tell if your water damaged electronics are repairable.
About the Author: ACS Industrial is an independent industrial electronic repair center providing repair services for power supplies of all types and most all manufacturers as well as servo drive repairs, AC/DC drives, VFD drives, servo motors, encoders, printed circuit board repairs, monitors and touchscreens, HMIs, controls & PLCs, test equipment, and much more. Our customer service team is available to answer your questions and help solve your industrial electronic repair concerns. Legacy equipment can be repaired! RUSH Service is available. You can reach them by calling 800-605-6419.