Small yes, but oh so important! That's your servo controller! What are your options if your servo controller stops functioning during machine operation? Are your servo controllers repairable?  Is replacement the answer?  It all depends!
REAL LIFE SITUATION ON THE PLANT FLOOR: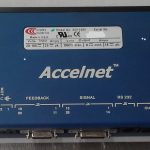 Our customer, an aircraft manufacturing contractor, found themselves in this very predicament. Their waterjet system was down due to a failed servo controller. Would they need to replace their equipment? Or were repairs possible? The good news, as is often the case, repairs WERE possible. Their Copley Controls 800-1689 servo controller was making loud noises before it failed after about 600 hours of operation. Aging components were the main cause of the failure. With the replacement of all seven capacitors, thorough cleaning and testing, the controller was back in action! This was a great relief and cost saver for our customer!
What other failures are typical in these types of servo controllers?
Over voltage alarms/machine will not move the axis the drive controls
All LED's out
No power
What kind of repairs are typically required to get these units back in action? This can vary a great deal depending on the age and environment but here are a few common causes:
Bad or weak capacitors
Bad MOSFETs
Bad PWM
Do you have questions or concerns about your servo controller, or you think it may need service? If it's still under warranty, contact your OEM. If it is out of warranty, contact an independent industrial electronic repair center. They should offer free evaluations for your servo controller and, if needed, a free quote for repairs. They should also provide repair reports and a good warranty that covers both parts and labor.
Are you wondering about repair costs? Here are some of our recent prices for Copley Control repairs:
About the Author: ACS Industrial is an independent industrial electronic repair center providing repair services for servo amps and controls of all types and most all manufacturers as well as servo drive control repairs, AC/DC drives, VFD drives, servo motors, encoders, printed circuit board repairs, monitors and touchscreens, PLCs, test equipment, and much more. Our customer service team is available to answer your questions and help solve your industrial electronic repair concerns. Legacy equipment can be repaired! RUSH Service is available. You can reach them by calling 800-605-6419