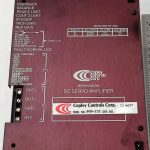 What does a failed DC servo amp look like? Servo amplifiers can and DO go rogue and this can happen anywhere. For example, this damaged Copley Controls DC Servo Amplifier p/n 800-232 failed on the job at a large, East Coast U.S. university. The failure, as described by our customer: "Device does not output proper voltages to drive motor".
Yes, we would call that a definite, and typical, failure! Are you getting improper voltage output from your servo amp? This kind of failure can happen whether your environment is a university or a heavy manufacturing facility. The most common cause of this type of failure is simply – aged components.
The repairs for this legacy Copley Controls unit included replacing the old electrolytic capacitors, a weak driver IC, and the high failure rate PWM. The unit was also thoroughly cleaned before and after repairs, and retested before shipping a like-new unit back to our illustrious university customer.
Do you have questions or concerns about your DC servo amplifier, or you think it may need service? If it's still under warranty, contact your OEM. If it is out of warranty, contact an independent industrial electronic repair center. They should offer free evaluations for your servo amp and, if needed, a free quote for repairs. They should also provide repair reports and a good warranty that covers both parts and labor.
About the Author: ACS Industrial is an independent industrial electronic repair center providing repair services for servo amps and controls of all types and most all manufacturers as well as servo drive repairs, AC/DC drives, VFD drives, servo motors, encoders, printed circuit board repairs, monitors and touchscreens, PLCs, test equipment, and much more. Our customer service team is available to answer your questions and help solve your industrial electronic repair concerns. Legacy equipment can be repaired! RUSH Service is available. You can reach them by calling 800-605-6419