We all know that electronics and water just don't mix. Ask anyone who has dropped a smartphone in the sink or had a burst pipe flood their office over the weekend.
Water damage can occur in a variety of ways – there's the "all at once" manner such as floods caused by severe storms, backed up drains, and burst pipes in the walls, ceilings, and floors. 
The other manner of water damage occurs over time due to slow seepage in and around work areas and machine shops. A faulty HVAC system can create damp and humid conditions that over time can cause water to condense inside machinery, computers, and other electronics.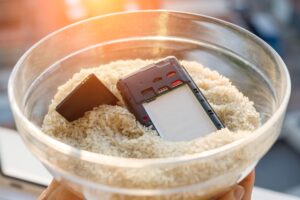 But how does the damage actually occur?
When water penetrates an electronic or battery operated device, it can dry underneath circuit boards, integrated chip boards, capacitors, and other vital pieces that provide power to the unit.
Once the water dries, it leaves behind contaminants and minerals, and these are the real culprits that cause damage to delicate parts.
It's interesting to note that if a device is exposed to filtered or purified water, there's a better than average chance that – if properly dried – the unit will function. This happens because there are no contaminants or minerals in this type of water.
Units and machines with LCD screens that have been exposed to water are a different story. When moisture – whether from excessive condensation or being soaked completely – gets in between the digitizer and the glass, the screen is essentially ruined.
Devices that are powered by rechargeable batteries that use alkali or alkaline elements can be destroyed by water, without any chance of repair. The reason is that these elements are highly reactive to water – no matter if it's over the course of time or immediate.
When any electronic equipment has been exposed to water, there are a few actions you can take, depending on the size of the unit and the amount of water and moisture involved. Removing the devices from the area is the first step, the next is to place them in a dry area and use a heat source – set on low – to evaporate the moisture.
Taking apart the device to try and dry internal components shouldn't be attempted. In many cases it can void the manufacturer's warranty. In addition to this, the pieces that are inside the unit can be further damaged and unrepairable.
ACS Can Help
If you're considering whether to repair your water damaged electronics then choose ACS and let us give you a free evaluation and repair quote.
Repair usually saves up to 80% the cost of buying a new piece of equipment.
Most repairs are back in your hands in 7-15 days after approval.
Our Rush Repair Service ships in just 2-5 days after approval.
We Guarantee Our Repairs With A Full Two-Year Warranty .
For a Free Evaluation, use our RMA Form link or visit our website and click on the "Contact Us" button on the upper right hand. You can also reach out to us at 800-605-6419 and speak to someone on our customer support team.