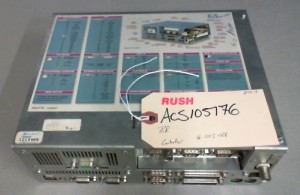 You know that awful metal scraping on metal sound?  Or that burned electrical smell?  These are dreaded harbingers of damaged equipment…often expensive damage.  Do these situations bring out the DIY repairman in you?  How about doing
your own industrial electronic repairs?  Maybe not so much.
In a recent Popular Mechanics column, Kyle Wiens, a self-described tinkerer turned fixer and co-founder of iFixit said," Fixing things is a dying art. This cultural lapse is reinforced by society's celebration of ending over mending. But here's the thing: Broken isn't a permanent state. It's a challenge…." It's true that it has become more difficult to repair your own equipment, especially if it is full of complicated electronics or proprietary parts.  Not only are the spare parts more difficult to obtain, there is also a dearth of publicly available repair information and schematics. Mr. Wiens is mainly referring to consumer electronics which are much more tempting to DIY repair.  Industrial electronics, on the other hand, are a different ballgame.  The purchase/replacement cost alone is enough to make most industrial electronics worth getting repaired.  Before going the DIY route, you also need to consider:
the cost of your time
how much time it would take YOU to repair the item – how long can you afford to be down
the warranty status of your damaged equipment (If the damaged item is still under warranty, then by all means, contact the OEM and let THEM spend their time and money repairing it. Or replacing it.)
your level of repair skills and equipment, or that of your staff
your risk tolerance level – DIY repairs can sometimes (often) make matters much worse and more expensive for a professional to repair
Luckily, most OEMs do repair their equipment while it is under warranty. However, once out of warranty they are far more likely to want to sell you something new. It's easier for them and, of course, more profitable. Mr. Wiens is right. Broken isn't a permanent state. Older, out-of-warranty industrial electronics are well worth repairing. Contact an independent industrial electronic repair center to find out if they are a good fit for your company and your particular repair needs. They should offer free evaluations for your damaged equipment and, if needed, a free quote for repairs. They should also provide repair reports and a good warranty of at least one year that covers both parts and labor.
About the Author: ACS Industrial Services is an independent industrial electronic repair center providing repair services for printed circuit board repairs of all types and manufacturers, drives, servo motors, encoders, monitors and touchscreens, PLCs, test equipment, and much more. Our customer service team is available to answer your questions and help solve your industrial electronic repair concerns. You can reach them by calling 800-605-6419 or going to www.acsindustrial.com .
ACS Industrial Services has a building full of "tinkerers turned fixers". They are professional electronics technicians and they too regard "broken" as not a permanent state!