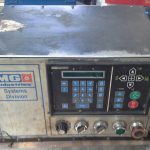 REPAIR SOLUTIONS FROM THE PLANT FLOOR – A CASE STUDY: MG INDUSTRIES PLASMA TABLE CONTROL FAILS
Is double-sided tape the only thing holding YOUR control together? Or maybe a bit of duct tape? If so, you are very much not alone. We see this all the time!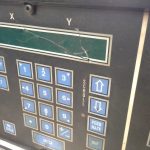 Take this MG Industries Plasma Table Control DNC 2.8 for example. Our customer is a very busy Texas fabrication shop. So busy that they really didn't want to take ANY down-time to get this guy repaired and had resorted to double-sided tape to hold the display together. This worked…for awhile.
Eventually, the universe had its way and the double -sided tape failed. It went like this: "I can't get a display on the screen. When it first started happening I could take the board out and clean the connections and it would go back to working." The bad news about tape? It dries out eventually, in this case allowing the display to fall out of its socket.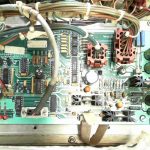 But by now, there were even more problems. EVERY capacitor inside this unit was also now bad. And, Murphy's Law at play – this happened to the busiest of their 20 plasma tables!
Although this was a frustrating event in our customer's shop, it ended in good news! These kinds of problems are repairable! All the capacitors were replaced, the socket and control panel replaced, and the entire unit tested and cleaned. This control is back in perfect working order on a busy plasma table in Texas!
Here's what our very relieved customer had to say, "Good Morning, I wanted to let you know we got our machine back Wednesday, hooked it up and it worked great. Thank your people for me. You helped save us thousands of dollars and prevented a lot more down time. Good experience." – Jerry. Well Jerry – we are SO glad we could help! It absolutely makes our day to hear all is well!
If your taped-up, jerry-rigged gear needs repairs – we can help you too!
About the Author: ACS Industrial is an independent industrial electronic repair center providing repair services for controls of all types and most all manufacturers as well as servo drive repairs, AC/DC drives, VFD drives, servo motors, encoders, printed circuit board repairs, monitors and touchscreens, PLCs, test equipment, and much more. Our customer service team is available to answer your questions and help solve your industrial electronic repair concerns. Legacy equipment can be repaired! RUSH Service is available. You can reach them by calling 800-605-6419