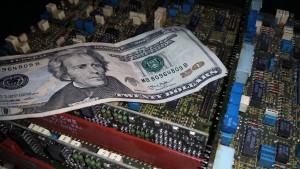 I am always interested in understanding where our customers are coming from. Despite some improvement in the economy, we still hear a lot of concern about needing to "produce more while spending less".
Today's tips are for helping you "do more with less" and saving money in your plant. No matter what your role at the plant, you are held accountable to find ways to squeeze more out of poor old Abe.
One relatively painless way most plants can save money is by reducing energy costs. For most manufacturers energy costs are their first or second highest expense making it a great place to begin. Here are 10 tips you can start with:
1.Use variable-speed drives on motors serving variable loads. (For more on this see this previous post on variable speed drives) When the motor is under a lighter load, they slow the motor down to reduce power consumption.
2.Install occupancy sensors. These work by turning lights on when people enter private offices, restrooms, or other infrequently used spaces. These were a little unnerving when they first came into use, but are commonplace today.
3.Install a setback thermometer in smaller buildings. These are a no-brainer and can really save.
4.Install your own substation. Better rates are often available to large consumers of electric power.
5.Outsource heating/cooling and generation operations. This reduces energy bills as well as capital and personnel costs. Your energy company can provide advice about this.
6.Manage loads. If your plant operates 24/7 shift loads to off-peak hours wherever possible and stagger the start-up of major electrical loads. Programmable sequence controllers make this doable. Larger plants can consider self-generation or distributed generation.
7.Downsize mechanical equipment. Many older plants have oversized HVAC blowers, pumps and chillers which waste money, space and energy. Do a load analysis to see if downsizing mechanical equipment will work for you.
8.Establish an "energy cop" and respond. This means regularly reviewing the energy saving performance of your energy providers and ask for competitive proposals. If you don't ask for it, you won't get it. Your predictable (and often large) energy needs and potential to use a demand response program put you in a powerful negotiation position with energy providers.
9.Perform an energy audit. A true energy audit by a specialist will pinpoint savings that might be missed otherwise. This could be money well spent.
10.Modernize the lighting. Lighting systems over 10 years old should likely be replaced. Payback on this will be pretty quick especially if there are local incentive programs. More efficient lighting uses less power and runs cooler which reduces HVAC costs. Consider upgrading all your lighting including signage such as emergency exit signs.
These are mostly pretty simple cost-saving strategies. Other non-energy related cost savings can be realized in other, less nuts-and-bolts types of efforts such as:
Workforce Optimization
Rethinking Inventory Costs
Process Optimization – this is a big-picture option and one that can get complicated; do yourself a favor and hire a pro.
Also remember that good maintenance practices are critical to prevent catastrophic damage to your expensive industrial electronic assets. Many manufacturers are quick to put damaged circuit boards, controls, monitors and other electronics in the "dumpster". But most circuit boards can be repaired as can other industrial electronics and this can be a big cost savings over buying new every time something goes down.
About the Author: ACS Industrial Services is an independent industrial electronic repair center providing repairs for all types of industrial electronic equipment and most all manufacturers including circuit board repairs, logic board repairs, repairs for industrial power supplies, drives, servo motors, CNC equipment, encoders, monitors and touchscreens, test equipment, and much more. Rush Service is available and a comprehensive 2-Year Warranty covers most repairs. The customer service team is available to answer your questions and help solve your industrial electronic repair problems. You can reach them by calling 800-605-6419 or going to www.acsindustrial.com.