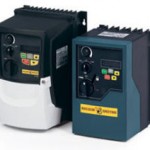 Looking to save energy? Trying to gain speed and torque control? Wishing you could control your starting current? Variable speed drives can do just that and more which means you will reap the rewards quickly.
Unless you run your motors at full speed all the time, variable speed drives (VSD or VFD for variable frequency drive) may be something you should look into purchasing.
Other benefits of a VSD/VFD include:
Reduces power line disturbances which eliminates voltage sags
Controls stops which reduces mechanical wear and breakage
Adjusts operating speed which can optimize the process
Eliminates mechanical components such as gearboxes by letting the motor and drive handle the speed and torque needs
Reduces power demand during startup surges which can cut utility charges for demand factors
Controls starting current by starting your motor with 50%-70% of the full-load current, plus the load extending the life of the motor
Eliminates the reversing starter along with the related maintenance
Collects data to detect motor, drive and wiring problems, deterioration of driven equipment, changes in process conditions, energy consumption, and much more
Most drive manufacturers have modeling software that lets users see the impact using a drive will have on their system. This is often a free service on their websites so you don't have to call in a sales rep until you are ready.
VFDs are hardy workhorses. Some manufacturers advertise 200,000+ hours of mean time between failures. So how much maintenance will that VFD require? Actually, VFD maintenance is not too complicated. Like all of your valuable equipment, it will need regular maintenance. We recently posted some good VFD maintenance tips.
If you've already reached the point of needing drive or motor repair you will likely need to go the professional repair route. Most drives are not only repairable, but worth repairing rather than replacing.
If it's still under warranty, contact your OEM. If it is out of warranty, contact an independent industrial electronic repair center. They should offer free evaluations for your VFD and a free quote for repairs. They should also provide repair reports and a good warranty of at least one year that covers both parts and labor.
About the Author: ACS Industrial Services is an independent industrial electronic repair center providing repair services for drives of all types including vf drive repairs, servo motors, encoders, printed circuit boards, monitors and touchscreens, PLCs, test equipment, and much more. Our customer service team is available to answer your questions and help solve your industrial electronic repair concerns. Two Year Warranties on most repairs. Rush Service available. You can reach them by calling 800-605-6419.