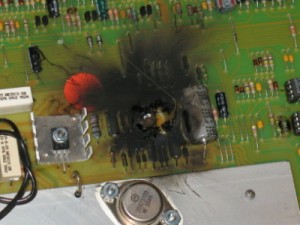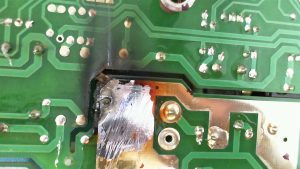 Heat, moisture and dirt are the mortal enemies of circuit boards! That means nearly ALL circuit boards eventually need repairs. Useful knowledge about preventive care and maintenance can extend the life of your circuit boards. It can also put off the need for repairs a little longer. This is especially important for those very expensive industrial circuit boards that can cost $30,000 each and sometimes more!
Signs of Overheating on Your Circuit Boards
Burnt, brown or blackened components
Burn marks on the board substrate
Delamination of the board
That well-known "burnt electrical smell"
Cracks in the solder joints (typically caused by repeated overheating and cooling)
Broken traces
Subtle differences in the shades of grey of a solder joint (this one is tricky for the untrained eye)
Prevent Overheating in Your Equipment by:
Proper ventilation
Keeping fans clean and free of debris
Account for additional heat generated by auxiliary equipment
Avoid sunlight, direct or reflected, on your equipment
Keep your equipment in good repair – no loose connections, no dirt, good insulation; check it regularly
Do not operate your equipment above the recommended limits, electronically or physically
Avoid excess current
If you find signs of overheating on your circuit boards, chances are pretty good that your equipment has already stopped functioning properly, or at all. Unless you have inhouse electronic repair capabilities, your best course of action is to properly shut down your equipment and remove the unit for repairs. Check your warranty to see if the OEM will handle the repairs.
If the unit is out of warranty, repairs of this kind should be sent to a professional electronic repair service company. They should offer free evaluations and a good warranty on their repairs. Getting a solid warranty for repairs on an old/legacy board is security!
About the Author: ACS is an independent industrial electronic repair center providing repair services for printed circuit board repairs, repairs to drives of all types and most all manufacturers including servo drive repairs, AC/DC drives, VFD drives, servo motors, encoders, monitors and touchscreens, PLCs, test equipment, and much more. Our customer service team is available to answer your questions and help solve your industrial electronic repair concerns. Legacy equipment can be repaired! RUSH Service for your electronics is available. You can reach ACS by calling 800-605-6419.