REAL LIFE REPAIR SOLUTIONS FROM THE PLANT FLOOR:  Gettys DC Drive Controller Quits Working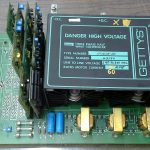 The SAD part of the story: "the axis was real jerky and continued to get worse until it QUIT". Ouch! Quitting on the job is never good, human or machine. So, what's up with this nice looking Gettys DC Drive controller?
It quit on the job! This happened in a mid-west U.S. custom fabrication shop after our customer replaced a drive motor. Suddenly there were problems. DC drives like this are awesome for providing variable speed controls for DC motors. This is especially true with applications that require low speed control, torque, and power. They are relatively simple machines so what could go wrong?