Ever been told that your operator control panel is unrepairable?  Or that you would need to upgrade to continue production? Yep, I thought so.
I know, we've mentioned this situation before but it happens to our customers so often it's worth repeating. Please don't throw in the towel on your dependable legacy equipment too fast.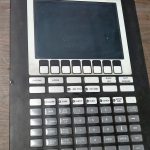 Here's a perfect example of  a piece of  out-of-warranty, legacy equipment that our customer desperately did not want to have to replace.
This Cincinnati Milacron (Siemens) controller 3-424-2319A02/J did have some serious problems. It booted up but the screen didn't work making it useless in production. Our customer was told by the OEM that it was unrepairable "due to the power supply".