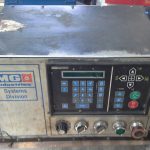 REPAIR SOLUTIONS FROM THE PLANT FLOOR – A CASE STUDY: MG INDUSTRIES PLASMA TABLE CONTROL FAILS
Is double-sided tape the only thing holding YOUR control together? Or maybe a bit of duct tape? If so, you are very much not alone.  We see this all the time!
Take this MG Industries Plasma Table Control DNC 2.8 for example. Our customer is a very busy Texas fabrication shop. So busy that they really didn't want to take ANY down-time to get this guy repaired and had resorted to double-sided tape to hold the display together. This worked…for awhile.