"Operator heard a BANG when they turned the system on; drive does not function when power is applied." That's from our customer and a very unhappy scene played out in small shops and manufacturing plants around the country. A dramatic "call for help" from this ABB variable frequency drive! The result: Drive repairs needed!
So, what happened to this ABB VFD drive?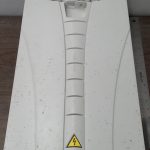 In this case, it's a perfect example of aging components combined with accumulated dirt. Inspection showed arc damage on the base in the area of the 3 phase A/C bridge module as well as some discrepancy in the gate circuits.
This ABB VFD ACS550-U1-059A-2+B055, Model: ACS550 first got a much needed thorough cleaning right down to the circuit boards and all components were tested. Repairs included replacing the 3 phase A/C bridge rectifier module and IGBT output module. A little detective work, a lot of cleaning and some new components put this ABB variable frequency drive back to work for our New England customer. ABB drive repairs successful! Pretty good news considering the dramatic call for help!