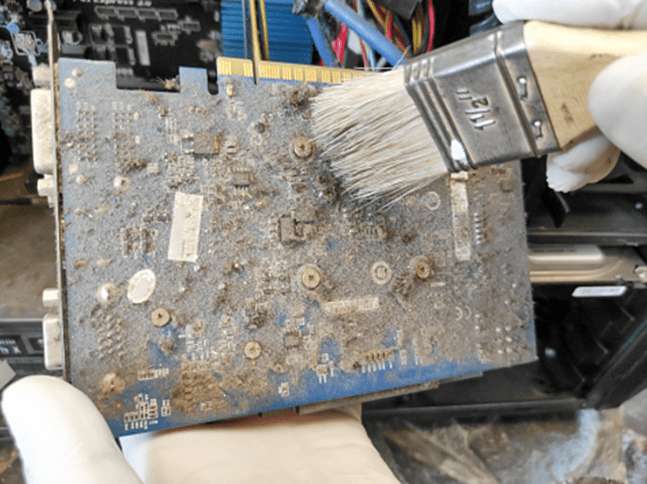 A corroded PCB is detrimental to its functionality. Corrosion is the most common reason for the failures of circuit boards. Therefore, you need to be on the lookout for signs of corrosion on your PCB. The earlier you detect the corrosion, the better. You can mitigate the corrosion through various ways, like cleaning before it gets to a point where it makes the circuit board fail.
PCB Corrosion
What is PCB corrosion? PCB surfaces are made of thin layers of tin, lead, and copper, metals which, if exposed to oxygen create a bond through oxidation that results in poor conduction of electricity, thus, the failure of circuit boards. For example, if a circuit board with a copper-coated surface gets exposed to oxygen components in moisture, it oxidizes to copper oxide, a poor conductor of electricity.
Types of PCB Corrosion
Corrosion in printed circuit boards can be a result of many things. Exposure of circuit boards to moisture is one of the reasons they can corrode. There are various other types or causes of PCB corrosion:
Atmospheric Corrosion
Moisture is classified under the atmospheric type of corrosion. Oxygen is a critical component in moisture, leading to oxidization of the metal surfaces of the circuit board.
Fretting Corrosion
This type of corrosion results from the constant closing of the solder plate, which leads to erosion of the surface oxide layer. When the layer beneath is exposed, it oxidizes and rusts, and the build-up prevents the switch from activating.
Galvanic Corrosion
Galvanic corrosion is typically a result of metals exposed to electrolytes.
Preventing PCB Corrosion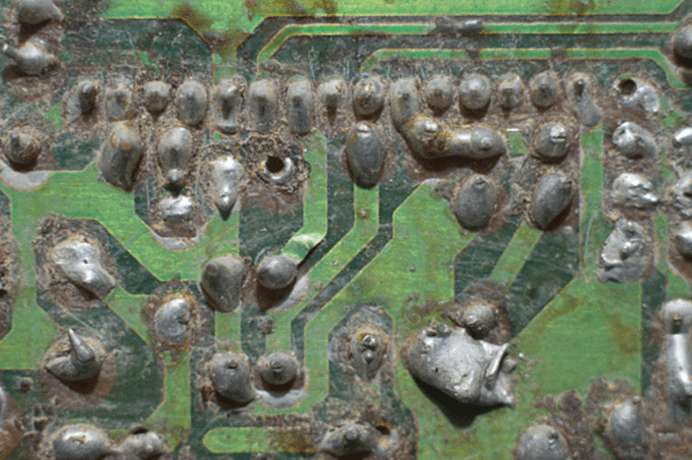 Most circuit boards eventually corrode, so prevention may not be possible. However, you can delay the corrosion in various ways to extend your circuit board's life expectancy. Some of the things you can do to delay corrosion include:
Keep the circuit board dry to prevent contaminated ionic moisture from degrading the metal surface.
Create covers for circuit boards or generally, the machine in use if it is exposed to an environment with moisture.
Manufacture PCBs in a dry environment to prevent pre-exposure to moisture which may progressively be detrimental to their functionality.
Cleaning a Corroded Circuit Board
Cleaning is one way of repairing a corroded circuit board. Cleaning the circuit board would require common household items and a simple procedure. You would need the following items to clean a corroded circuit board:
Baking soda
Deionized Water
Lint-free Towel
Soft-brittle Brush
Phosphate-free Cleaner
Each listed material has components or properties that effectively clean the circuit board without damaging it.
The cleaning procedure
First, you will need to document the connection on the circuit board through a photo or video; this will help you with a reference when assembling the board after cleaning.
Proceed to disassemble the circuit board for effective cleaning. Once you disassemble, mix baking soda and water to make a thick paste.
Use the brush to apply the paste mixture onto the corroded surface of the circuit board while gently scrubbing. After the paste dries for thirty minutes, rinse it with distilled water.
To ensure the corroded parts are efficiently cleaned, scrub the circuit board using the household cleaner again, then rinse it.
Using the lint-free towel, part the circuit board dry, and to ensure it dries off completely, set it into a preheated oven. Ensure you turn off the oven completely before putting the circuit board inside.
Contact ACS Industrial Services for All Your Industrial Repair Needs
Need circuit board repair services? Get in touch with ACS today! We offer various services that can solve your electronic equipment problems quickly and effectively. We offer evaluations and quotations at no obligation.
For more information, visit our website and click on the "Contact Us" button on the upper right or call 800-605-6419 and speak to someone on our customer support team.