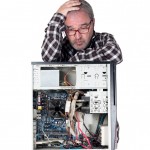 Unplanned downtime is the enemy and you're responsible for eliminating even the possibility of a downtime situation…preferably without overspending your already tight budget.  So you've  implemented a maintenance strategy.  Those maintenance efforts seem costly; but, it turns out that it is even more costly if you do not follow the maintenance plan (or worse, have no plan).  You might get frustrated and wonder what else you can do.
First, as you go through this process, keep in mind the Law of Diminishing Returns – the maintenance effort needs to be just right, not too much, and not too little to maintain a balance of cost and production efficiency.
Here are some more ideas:
Install smart devices to monitor your equipment; with this mobile technology approach you can know about trouble brewing from anywhere, at any time, before it becomes a downtime disaster, and respond accordingly.
Establish clear priorities and make sure your team members know what they are. Better yet, have them participate in creating the priorities. They should also be looped in on the actual impact of downtime and what it will cost. This way no one wastes valuable time and resources on low priority efforts and everyone has a vested interest in preventing downtime.
Measure it (downtime) because if you can't measure it, you can't manage it. Invest in an automated system for tracking downtime, which pieces of equipment have frequent failures, when and why.
Find the Root Cause – After you've measured, you can manage it by uncovering the root cause of the down time. Repairing your equipment without understanding what caused it to stop is a frequent mistake, often causing more downtime and additional repairs to the SAME items. Now that's an unnecessary budget-buster.
Repair industrial electronic equipment rather than replace. This is a big one, and the cost savings can be substantial, sometimes as much as 85% less than the cost of buying new equipment which will help your budget. Repair/reusing is also an excellent way for your plant to hit your "green goals" and be more environmentally friendly. Even old and obsolete industrial electronic equipment can often be repaired such as:
Printed Circuit Boards
Servo Drives
Servo Motors
Encoders
PLCs
HMIs
Monitors & Touchscreens
AC/DC/VFD Drives
Power Supplies
Test Equipment
Control your energy usage. Believe it or not, U.S. industry makes up about 30% of the energy usage in the country, more than any other segment including transportation. You can make a dent in your own budget too by clamping down on waste. Some ways to do this: using "smart" energy monitoring systems to maximize efficiency; changing out your lighting for more energy efficient lighting; using variable frequency drives where possible, and sealing out drafts and dampness that can damage equipment faster. Consider getting an energy audit if you haven't already. You can apply these savings elsewhere in plant and equipment maintenance.
Control the environmental effects on your equipment as much as possible – excessive heat, moisture and dirt are at the heart of many electronic equipment disasters ending in prolonged and repeated downtimes.
Invest in Training and stay up to date on the latest technology – Education and training is always money well spent and increases production and maintenance efficiency. And it can often cost very little by having experienced employees, managers, or vendors offer in-house training. Offer free lunch to attendees and you have a win-win.
Preventing unplanned downtime is a HUGE subject, and for good reason as it is the biggest cause of lost production time. There is far more to the subject than I can cover here, but there is plenty of information to be found on this subject and plenty of very helpful consultants.
Have a systematic approach to maintenance, stay knowledgeable about and utilize best practices and technology, and focus on the priorities (keep your eye on the ball). And finally, ditch your ego so you can take a team approach to solving problems and you will be on your way to reducing downtime and saving money.
About the Author: ACS Industrial Services is an independent industrial electronic repair center providing repairs for all types of industrial electronic equipment and most all manufacturers including power supply repairs, circuit boards, drives, servo motors, CNC equipment, encoders, monitors and touchscreens, test equipment, and much more. Rush Service is available and Two Year Warranties cover most repairs. The customer service team is available to answer your questions and help solve your industrial electronic repair problems. You can reach them by calling 800-605-6419 or going to www.acsindustrial.com.