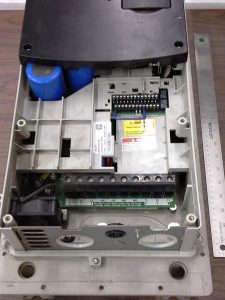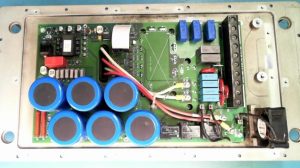 REPAIR SOLUTIONS FROM THE PLANT FLOOR:
KABOOM! Rarely a good sound on the plant floor! What happened to this Allen Bradley Powerflex servo drive p/n 20AD065A0AYNANC0 to give our food industry plant customer a headache – literally!?
Excessive current is the typical cause for damage like this to fuses in a drive. In this particular case, the bridge rectifier module was shorted resulting in extreme current and damage to the fuses and capacitor.
Yow! Simultaneous violently exploding fuses and a capacitor! All kinds of bad news here at first glance – this drive needed replacement of the diode module, IGBT, capacitors and optocoupler.
The good news is Allen Bradley servo drives are survivors! The disassembly, repair and cleaning, and reassembly was successful! This drive went right back into service in the plant. And, at a cost far less than the cost of a new unit and even about 40% less than a reconditioned unit.
Repair of quality industrial equipment like this Allen Bradley servo drive can be a great way to save money and time, as well as be environmentally responsible. If your servo drive needs repairs we can help. #kaboom #survivor #fixit
About the Author: ACS Industrial Services is an independent industrial electronic repair center providing repair services for drives of all types and most all manufacturers including servo drive repairs, AC/DC drives, VFD drives, servo motors, encoders, printed circuit board repairs, monitors and touchscreens, PLCs, test equipment, and much more. Our customer service team is available to answer your questions and help solve your industrial electronic repair concerns. Legacy equipment can be repaired! RUSH Service is available. You can reach them by calling 800-605-6419.