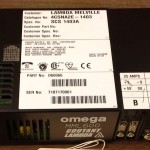 What? Hold on….a split-second power outage can damage your power supplies? Why? How?
There are a few variations on why and how a power outage can wreck your power supplies.  It depends on the kind of interruption.
If it is just a momentary loss of power, the load of the power supply can cause a spike in current that damages the output of the power supply by the partial shutdown and the restart.
More often, there is a spike on the main power to a plant when there is an interruption and restoration of power. This spike will damage the input side of the power supply.
In this particular Lambda example (pictured) there was indeed a power outage in the plant reported. After the power outage, the main power board on this Lambda D60066 was damaged on this power supply (input side), a known weak spot, so it was quite possibly caused by the Input spike. Lambda power supply repairs were definitely needed.
The good news is that most power supplies survive this damage and can be repaired. If you need power supply repairs check first to see if your equipment is still under warranty. If so, contact the OEM about repairs. If it is out of warranty, hopefully you have found a go-to repair center.
If not, contact an independent industrial electronic repair center to find out if they are a good fit for your company and your particular repair needs. They should offer free evaluations for your damaged power supply and other equipment, and a free quote for repairs (no bench fees!). They should also provide repair reports if requested and a good warranty of at least one year that covers both parts and labor.
About the Author: ACS Industrial Services is an independent industrial electronic repair center providing power supply repairs for all types and manufacturers, circuit boards, drives, servo motors, CNC equipment, encoders, monitors and touchscreens, PLCs, test equipment, and much more. Rush Service is available and Two Year Warranties cover most repairs. The customer service team is available to answer your questions and help solve your industrial electronic repair concerns. You can reach them by calling 800-605-6419 or going to www.acsindustrial.com.