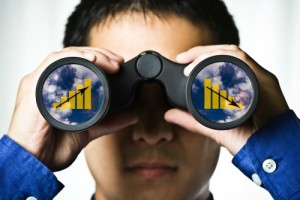 Manufacturing will never be the same again, but mostly in good ways! That's the takeaway from all of our research. To save you time, we sifted through scores of tech and manufacturing trends articles** and surveyed our staff to identify key trends and business outlooks that we think will affect you – manufacturing, industrial, and commercial enterprises – in 2016 and beyond.
This year, more than any year in our collective memory, what used to be considered industrial science fiction has become reality. And it is all very interconnected and interdependent.
Because we know you like things simple, fast, and straight up, the list of 2016 Trends As We See It has been divided into Gear, People, and Business sections and BULLETIZED. Here's an easy-to-scan compilation of the hottest trends:
Your Gear/Assets/Equipment Trends
IoT – Internet of Things and connected devices – will become more necessary, more understood and used. Yes, we know folks have been talking about IoT for a while now but the talk is getting a lot louder. If you've been avoiding even putting a toe in these waters, you are not alone. But know this, developers are going out of their way to create user-friendly systems that look and work like video games. So if you or your staff are gamers, this may be easier than you think. If you're not already using this type of system, imagine being able to access and control all of your equipment and devices from a touch screen tablet that shows everything from valves and conveyors to doors and switches. This may even help better predict and prevent equipment failures better controlling the need for frequent repairs such as industrial monitor repair.
3D Printing – will become more available, more affordable, and more useful. It seems like new ways to use 3D printing are discovered nearly every day. In 2016 this will move into the fast lane as the ability to additively incorporate metal parts along with polycarbonate, plastic, and ABS becomes readily available this year. This is the year that 3D will become more relevant to all. Better delivery systems to get needed specialty small runs of 3D printed parts to you overnight are already becoming reality in the U.S. and Canada, and very soon into Europe and Asia.
Safety – safety for operators and equipment gets a lot of attention, as it should. Now you will see this expand with the ability to protect your performance and output by using safe speed to make many operations more productive and continuous.
Intelligent Factor – the combination of IoT, big data, and smart components will affect entire organizations from top brass to machine operators to maintenance helping to make efficient decisions based on real data. This will affect your plant's performance and profitability. It is estimated that worldwide manufacturers will spend about $323 billion on external IT over the next few years.
If you think most of the bullets above are pretty much the same thing, you would almost be right. They are connected and "connected" is surely the buzz word for 2016.
Your People Trends
Staffing Challenges – It will get EVEN more difficult to find employees with the right skill set. According to the US Bureau of Labor Statistics, there were 5.8 million job openings in the US in July 2015 and there will be stiff competition in 2016 to fill those positions. Signing bonuses are becoming the norm. Staff education and training for leadership will be even more important.
New Overtime Rules– Proposed increases (which haven't occurred in 40 years) to the minimum salary requirements for overtime will affect many. 40 plus years ago, approximately 60% of salaried workers were eligible for overtime. In 2016, only 8 percent of full-time salaried workers are.
Connectivity in the Workplace – There's that word again. On the plus side, all this connected technology including CRMs and ATSs, smartphones, tablets, video chatting, etc. can make your production more efficient. Beware the dark side of this coin – work/life imbalance can occur as employees are always accessible. Distractions such as Facebook, Snapchat, text messages, etc. received from outside the workplace can eliminate all the efficiency gains made by these same tools.
Your Business Trends
Customer Centric"ness" will be HUGE – Finding every way to be more customer-centric will be an even bigger target than before and if you're not customer centric, you will lose market share to those who are. Most manufacturers will also use metrics to measure the success rate of their investments in both new technology and their customer-centric efforts. How can you be more customer-centric? This is about more than marketing and buyer "personas" – you already know about that. Depending on your type of industry it could mean: including users earlier in research and development phases to create more desirable products; actually communicating with your customers before, during, and after development to see what works ; being more passionate about customer retention than sales numbers.
No surprise – Manufacturing is STILL recovering from the 2008 recession. In fact, manufacturing industrial production has to grow another 3.4% in order to reach the pre-recession production level achieved in December 2007 – that's at least another year of manufacturing industrial production growth. (quoted from U.S. Industrial Outlook)
Reshoring –reshoring for many industries has come to a virtual standstill due to the fluctuating strength in the U.S. dollar and oil prices, and a tightening of the U.S. labor market in manufacturing. But don't give up hope; many larger companies are still committed to reshoring. It will become even more important in 2016 to focus your R&D efforts locally by attracting and keeping millennials and taking advantage of existing R&D tax credits. This is important in more ways than you might think because U.S. consumers still prefer "Made in America".
Ups and downs in various industries – Manufacturing growth has been slower than reported earlier (probably no surprise to you).–Revisions show that manufacturing growth since 2010 was actually 4.5% slower than last reported. While that might be depressing, not all is bad news. Here's some quick prediction numbers:

Computer and electronic products will increase 6.1% in 2016 (over 2.1% in 2015) and 5.9% in 2017 which isn't terrible, but still disappointing to many
Manufacturing will increase a modest 3.4% in 2016 (over 2.1 in 2015) and 3.1% in 2017
New housing starts will grow at a rapid pace and commercial and industrial construction will lead the non-residential activity.
Metal fabrication will be up
Mining and drilling equipment production will decline 17% in 2016
Motor vehicles and parts will decline
Communications equipment will go up
Industrial machinery production will go up
Engine, turbine, and power transmission equipment will go down
Aerospace products and parts will go up
Basic chemicals manufacturing will go up
Paper product manufacturing will stay about the same
Pharmaceutical and medicines will go up
Iron and steel products will go up
Well, that's how we see 2016 shaping up. We hope your industry is in a position to make use of all this exciting "connected" technology that is becoming available. The science fiction element of the technology is important but the human element, your staff and your customers, is still in the driver's seat. Keep both in mind as your forge your way into new territory this year.
** Articles used to compile this list came from numerous sources including Industry Week, ThomasNet, NAIOP, Plant Engineering, Plant Services, dbusiness.com, Manufacturers Alliance for Productivity and Innovation, Wall Street Journal, our staff, and other sources.
About the Author: ACS Industrial Services is an independent industrial electronic repair center providing repairs for all types of industrial electronic equipment and most all manufacturers including circuit board repairs, logic board repairs, repairs for industrial power supplies, drives, servo motors, CNC circuit board and equipment repairs, encoders, monitors and touchscreens, test equipment, and much more. Rush Service is available and a comprehensive 2-Year Warranty covers most repairs. The customer service team is available to answer your questions and help solve your industrial electronic repair problems. You can reach them by calling 800-605-6419 or going to www.acsindustrial.com.